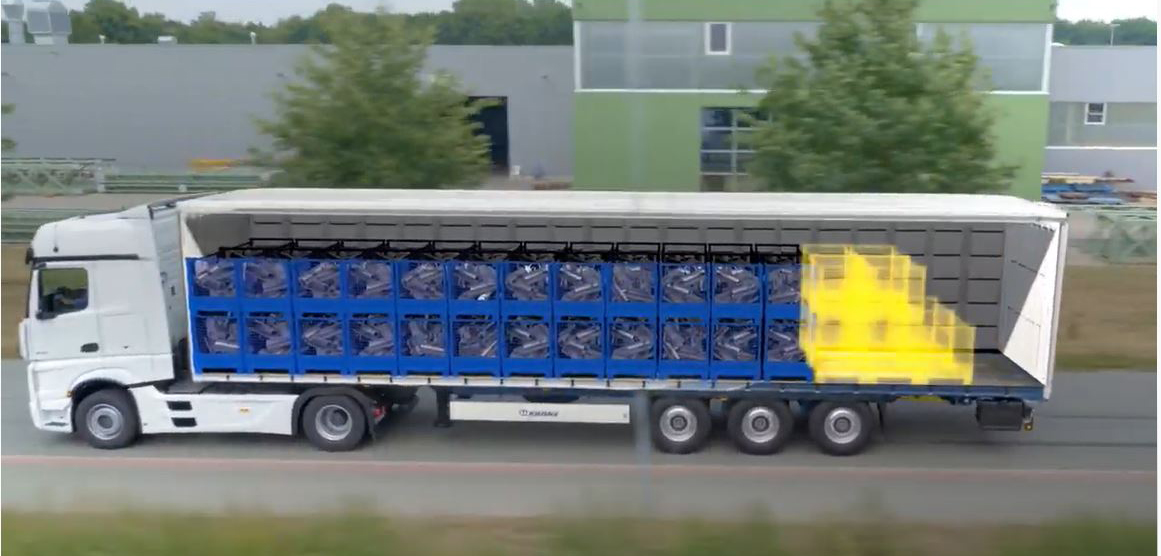 Smart Capacity Management
With the intelligent load space detection Smart Capacity Management, load capacities can be detected and better utilised. SmartScan transmits images in real time, and with the SmartLoad upgrade, further processes can be automated, for example integration into transport management system.
Artificial intelligence manages loading space.
KRONE Smart Capacity Management employs SmartScan technology to monitor the load compartment in the trailer using a camera and transmits the images to the KRONE Telematics Portal via the KRONE Smart Collect (KSC) telematics unit. This allows the dispatcher to track the trailer in real time, view the loading area and examine the interior before and after loading or unloading. The dispatcher can use SmartScan to visualise damage, incorrectly secured loads and people. All loading and unloading processes are documented, including location and a timestamp. In the KRONE Telematics Portal, both the algorithm and the camera image for each trailer, are shown for optimum control. The high-resolution images allow the dispatcher to immediately identify any damage to the goods and vehicle – even in the dark and when the trailer is closed. It can also start recording new images as needed.
In the higher-level SmartLoad configuration, artificial intelligence evaluates the images and detects possible damage, incorrectly secured loads and people and calculates the available loading space in metres. The system automatically detects the space requirements and load consignments and transfers this information in real time both to the dispatcher as well as the transport management system (TMS).
Artificial intelligence for freight exchanges
To allow transport companies to utilise this information in a targeted manner, KRONE provides the data via API for the common transport management systems (TMS) on request. Free pallet spaces as well as other free loading space are then automatically identified and can also be transferred to freight exchanges using the TMS together with the current location. Possible transport orders are also recommended. The KRONE Smart Capacity Management allows you to maximise capacity utilisation, which not only gives you a major advantage over your competitors, but also eliminates unnecessary (partially) empty runs, which in turn helps to protect the environment over the long term.
Another advantage is the considerable reduction in the workload: thanks to the KRONE Smart Capacity Management's innovative technology, the dispatcher's task focus is shifted from order coordination to order monitoring.
Advantages at a Glance
Detection of free spaces
Control of load securing
Control of damaged cargo
Integration in TMS
Transfer to freight exchanges